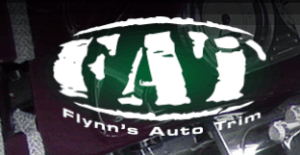 Looking to trick out your boat, car or other toys? No time better than now. Give Ty, Chad, Mike or Deron a call to get the ball rolling…
Since 1947, Fat Customz (Flynn's Auto Trim) has been a family-owned business operating on two key fundamentals, supply its customers with only the best products, and the finest service …guaranteed!!!
As our knowledge and expertise expanded, so did our services.
We can customize your car, your boats, your couch, and your booths, install sunroofs or seat heaters. Our experienced and professional staff are some of the best craftsmen around. If you're not sure of what you need, simply give us a call and we will gladly help you find it.
Shop Fat Customz for your car, truck, boat, motorcycle…if you can drive it we can customize it.
Here is just a sampling of what we do – reupholster, mobile audio, mobile video, engraving, custom covers, customizing, mobile interiors, remote starts, heated seats, auto customizing, engraving, customizing, car audio, boat audio and more.  Want to know what we can do for you visit us on George Street, La Crosse.