Crazy Dave's Auto Repair
Crazy Dave's Auto Repair
Crazy Dave has been woking on getting your car up and running for the past 32 years.
Crazy Dave's Auto Repair at 3207 South Avenue in La Crosse, Wisconsin does what your car needs him to do.
Dave does everything from:
Tune-ups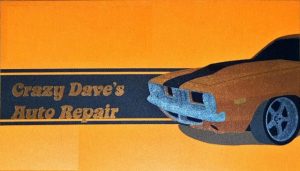 Brakes
Exhaust
Transmission Rebuilds
Motor Swaps
Head Gaskets
Diagnostics
Suspension- Wheel Bearing, Tie Rods, Ball Joints, Control Arm Bushings
Basic Oil Change with up to 5 quarts of oil for $30
Battery Install with a 5-year replacement also available.
Automotive service is done right at Crazy Dave's Auto in La Crosse, Wisconsin.  Shop rates just $75.00 per hour.
Stop by and see David Willette otherwise known as Crazy Dave.
Crazy Dave's Auto on the south side of La Crosse.