Coulee Concrete Repair LLC
Coulee Concrete Repair LLC
Coulee Concrete Repair LLC has been providing mudjacking services to the La Crosse and Onalaska, WI for many years. We make sure that each project is done for a reasonable price, and within an agreed time frame. Mudjacking can often take the place of complete removal and replacement of concrete.
What is Mud Jacking?
Mudjacking is a technique of pressure injecting grout for the purpose of raising or stabilizing concrete slabs. It is faster, cleaner, and less costly than the removal and replacement of old concrete. If you are hoping to save money on the replacement of concrete, here are a few of the benefits of mudjacking. If you are unsure if mudjacking would work for your particular situation, we would be happy to come out and give you a free estimate.
A pattern of holes are drilled in concrete slabs and a mixture of lime or cement is pumped under the slab. Once the void is filled the grout becomes pressurized and the slab is hydraulically raised to the desired height. The holes are patched with cement and the surface is left looking restored.
Mudjacking (also known as slab jacking, concrete lifting, concrete raising, and slab leveling) is a foundation and slab repair technique for lifting settling concrete slabs.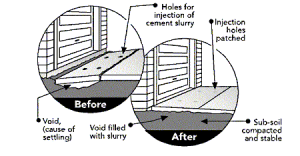 Mudjacking consists of pumping a mixture of "mud" or "slurry" underneath a settling slab to lift and stabilize it. This injected material is a mixture of water, soil, sand and cement that cures to create a solid, stable fill.
Uneven or sunken concrete is unsafe and unsightly, but it isn't difficult to repair. Most often, it's caused by soils that are compacted by the weight of the concrete (or through water erosion). This is quickly and easily repaired through a process called mudjacking.
During installation, small holes are carefully drilled in the sinking concrete slabs. The slurry is mixed and prepared, and a line is fed into the concrete opening. Once the concrete is raised to the desired level, the hole is patched over and tooled off.
Mudjacking Benefits
Less than ½ Cost of Removal/Replacement
Installs Without Damage to Yard
Great For Remote, Hard To Reach Areas
Leaves Landscaping Unaffected
Reduces Down Time For Repairs
Very Cost Effective
Why Choose Coulee Concrete Repair LLC?
Because we are the Coulee Region's Top Choice in Mudjacking, we are Family Owned and Operated